MORTALITAS, PENGHAMBATAN MAKAN DAN PERTUMBUHAN HAMA DAUN GAHARU HEORTIA VITESSOIDES MOORE OLEH EKSTRAK BUAH BRUCEA JAVANICA (L.) MERR.
Keywords:
lethal effect, antifeedance, Brucea javanica, Heortia vitessoides
Abstract
The bioassay of  Brucea javanica fruit extract was performed to evaluate lethal and antifeedance effect as well as growth inhibition against agarwood defoliator Heortia vitessoides.  Three types of Brucea (unripe, ripe, and dried fruits) were extracted with maceration method in aquadest for 24 hours. Tests were done using leaf-residual method.  The results showed that mortality of H. vitessoides larvae was significantly higher when applied with Brucea extract at  concentration 50 g/l  compared to control starting at two days after application. Moreover the dried fruit extract killed all  insect test in three days after application. The other result indicated that pupation of agarwood defoliator was less than 10% and emerging adult  was 0% when applied with Brucea fruit extracts.  In addition, at two days after application of ripe and dried fruit extracts resulted antifeedance effect against H. vitessoides larvae 68-70% leaves weight and 74-77% based on eaten leaf area.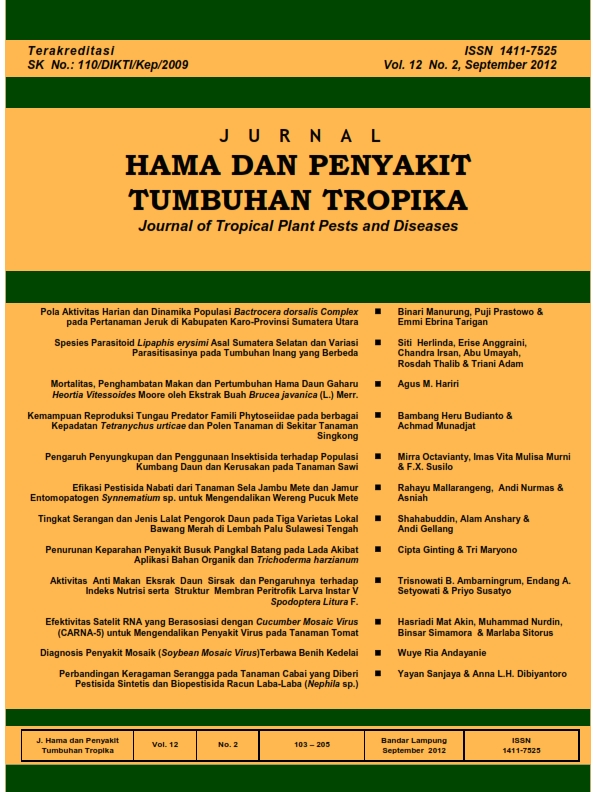 Downloads
License
Jurnal Hama dan Penyakit Tropika (JHPT Tropika) is licensed under a 
Creative Commons Attribution-NonCommercial 4.0 International License
.

Read Counter : 262 times

PDF Download : 180 times