SPESIES PARASITOID LIPAPHIS ERYSIMI ASAL SUMATERA SELATAN DAN VARIASI PARASITISASINYA PADA TUMBUHAN INANG YANG BERBEDA
Keywords:
Lipaphis erysimi, parasitoid, South Sumatra
Abstract
Lipaphis erysimi (Hemiptera: Aphididae) is one of the main insect pests on brassicaceous crops. Aphids attack crops by sucking sap from its hosts. Densed population in the initial phase of crop growth could  inhibit growing, loss in yield up to 100%. Experiments were aimed to explore and identify species of  L. erysimi parasitoid in highland areas of South Sumatra, and to  determine potency of the parasitoids to parasitize L. erysimi in laboratory.  The highest parasitism level of L. erysimi (72.40%) was found on 200 aphids which reared on B. juncea.  While, the second highest parasitism level (65.67%) was found on N. indicum.  The number of mummies found on N. indicum was less than on B. juncea.  Of all observations, every treatment  on every tested plant showed that female D. rapae emerged more than male D. rapae (female bias).  The two parasitoids species that parasitized L. erysimi were Diaeretiella rapae and Aphidius sp.  Parasitisation at several location in South Sumatera was highly diverse.  D. rapae was the most abundant parasitoid species on several high lands at South Sumatera.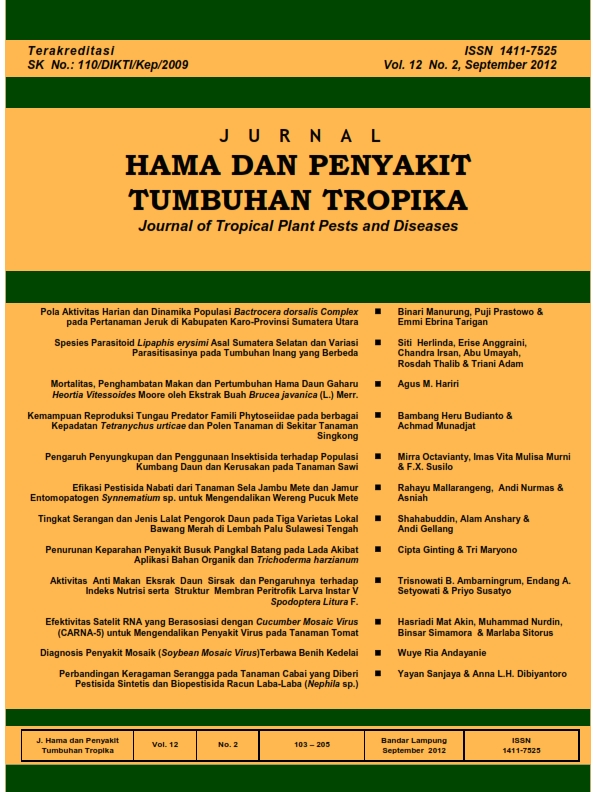 Downloads
License
Jurnal Hama dan Penyakit Tropika (JHPT Tropika) is licensed under a 
Creative Commons Attribution-NonCommercial 4.0 International License
.

Read Counter : 340 times

PDF Download : 193 times