KARAKTERISTIK PSEUDOMONAS VIRIDIFLAVA: PENYEBAB PENYAKIT BUSUK LUNAK DAN EVALUASI VIRULENSINYA PADA KLON ANGGREK PHALAENOPSIS
Keywords:
orchids, bacterial soft rot, Pseudomonas viridiflava, resistant clones
Abstract
The objectives of this research were  to determine the typical symptoms and isolates chararteristics of Pseudomonas viridiflava as the causal agent of soft rot bacterial disease and to find out orchid Phalaenopsis clones resistant to the disease. The scope of this study included exploration and isolation of the pathogens, pathogenicity, biochemical and LOPAT tests,  also screening the Phalaenopsis F1 clones resistant to the pathogen. The results showed that  isolates  Vd-6, Ph-7 and Ph-18 obtained from Vanda (in Bandung Nursery) and Phalaenopsis orchids respectively, in glass house of Indonesian Ornamental Crops Research Institute, were identified as P. viridiflava and highly virulent on tested orchid plants. Typical symptoms were soft rots characterized by moist and watery decay of the whole leaves, which were initiated as small water-soaked lesions and enlarged rapidly to the entire leaves. Based on biochemical and LOPAT tests, the causal organisms were  fluorescent green colonies in King's B medium, not producing levan compound and arginine hydrolase reaction. Pectinolytic activities on potato and tobacco hypersensibility were also positive. According to evaluation test, 10 F1 accecions Phalaenopsis clones (VL 231, VL 232, VL 233, and VL 240; M22.213 and M22.223; 599.201, 599.205, 599.215 and 599.243) were resistant to that pathogen.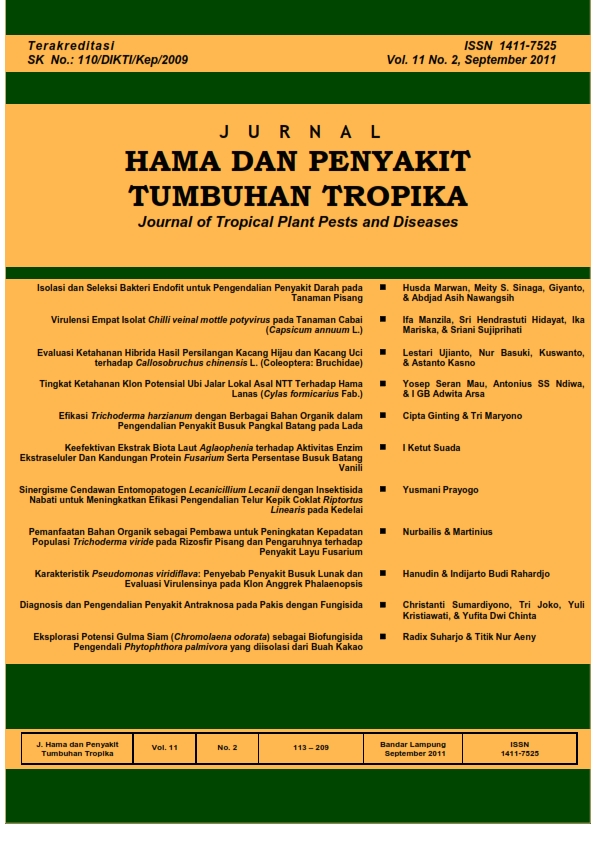 Downloads
License
Jurnal Hama dan Penyakit Tropika (JHPT Tropika) is licensed under a 
Creative Commons Attribution-NonCommercial 4.0 International License
.

Read Counter : 586 times

PDF Download : 646 times