PENGARUH POLA HARI HUJAN TERHADAP PERKEMBANGAN PENYAKIT GUGUR DAUN CORYNESPORA PADA TANAMAN KARET MENGHASILKAN
Keywords:
Corynespora leaf fall disease, rubber, rainfall, numbers of raindays
Abstract
Effect of weather on the development of leaf fall disease in the yielding rubber estate.  This research was conducted in  PTP VII Bergen Lampung  from  July  to August for 2005 and 2006 (new leaves period). This research was carried out using survey and experiment methods.  Parameters observed in the research were persentages of leaf stage, the number of leaf fall  per m2 caused by Corynespora cassiicola and amount of  spore distributed  in air, daily rainfall amount and number of rain days. Results of the study showed that  the pattern of rainfall  and number of raindays affected the development of plant's new  leaves and  leaf fall disease caused by Corynespora.  The amount of spores distributed in the air was relatively higher in 2005 observation period compared to  2006 one.  The pattern of rainfall and number of rain days also affected the disease severity which was higher in 2005 compared to 2006. Epidemy  was occurred when lower rainfall amount  taking place intermittently with sunny days in the period of new leave formation.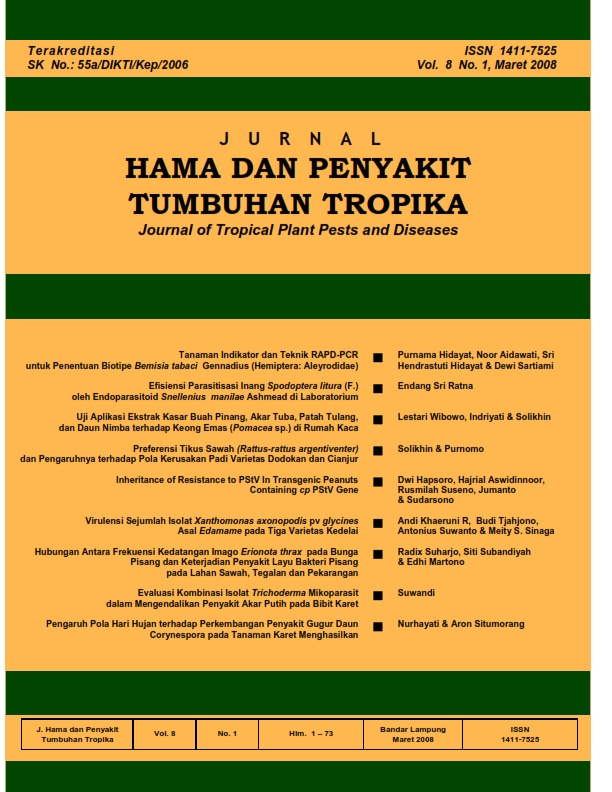 Downloads
License
Jurnal Hama dan Penyakit Tropika (JHPT Tropika) is licensed under a 
Creative Commons Attribution-NonCommercial 4.0 International License
.

Read Counter : 293 times

PDF Download : 420 times