VIRULENSI SEJUMLAH ISOLAT XANTHOMONAS AXONOPODIS PV GLYCINES ASAL EDAMAME PADA TIGA VARIETAS KEDELAI
Keywords:
Xanthomonas axonopodis pv. glycines, virulence level, bacterial pustul disease
Abstract
Virulence of some Xanthomonas axonopodis pv. glycines Isolates from Edamame on Three Soybean Varieties. Bacterial pustul disease caused by Xanthomonas axonopodis pv. glycines is the most important bacterial disease in soybean cultivation worldwide including in Edamame cultivation in Indonesia. Information of virulence level of this pathogen in Edamame unknown yet. The objective of this research was to evaluate the virulence level of 29 X. axonopodis pv. glycines isolates from Edamame on three soybean varieties (Wilis, Orba and Edamame). The result showed that four isolates (JA7,JA8, JB4 and JB7) were hight virulent. The isolates also have faster laten priodic, higher disease severity as well as the rate epidemic increase in Edamame variety than in both Wilis and Orba varieties.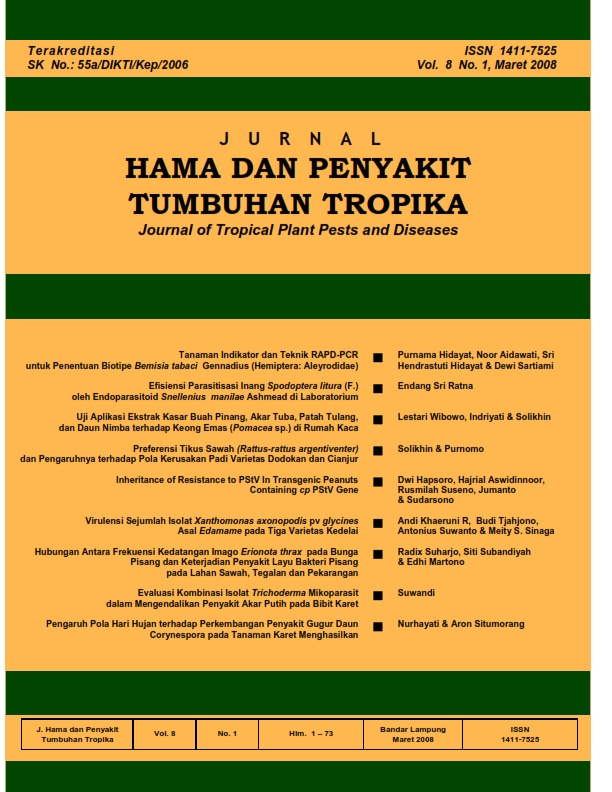 Downloads
License
Jurnal Hama dan Penyakit Tropika (JHPT Tropika) is licensed under a 
Creative Commons Attribution-NonCommercial 4.0 International License
.

Read Counter : 551 times

PDF Download : 135 times