POTENSI EUPHORBIA HETEROPHYLLA L. SEBAGAI INANG ALTERNATIF PENYAKIT KUDIS PADA UBIJALAR
Keywords:
Sweet potato scab disease, Euphorbia heterophylla, alternative host
Abstract
The Potential of Euphorbia heterophylla as an Alternative Host of Scab Disease on Sweet Potatoes.  Scab, caused by Elsinoë batatas (Saw.) Jenkins & Viegas, is a major disease on sweet potato.  The disease cause reduction in tuber production up to 30%. Euphorbia heterophylla is one of the common weeds in the cultivated land of sweet potatoes which is considered as an alternative host plant of the scab.  The objective of this research was to study the ability of E. heterophylla as an alternative host of sweet potato.  This study consisted of identification of sweet potatoes scab symptoms and E. heterophylla spot symptoms, isolation of the pathogen of sweet potato scab and E. heterophylla spot, and the test of pathogen virulence on some sweet potato cultivars. The result showed that the scab symptoms on sweet potatoes was brown and concaved  caused by fungi E. batatas, while the spot symptoms on the E. heterophylla was white and convex caused by Fusarium sp.  The cultivar of sweet potatoes which were inoculated with sick sweet potatoes suspension showed scab symptoms, however no symptoms occurred on the sweet potatoes which were inoculated with suspension of E. heterophylla.  Overall, E. heterophylla was not considered to be the alternative host of scab on sweet potatoes.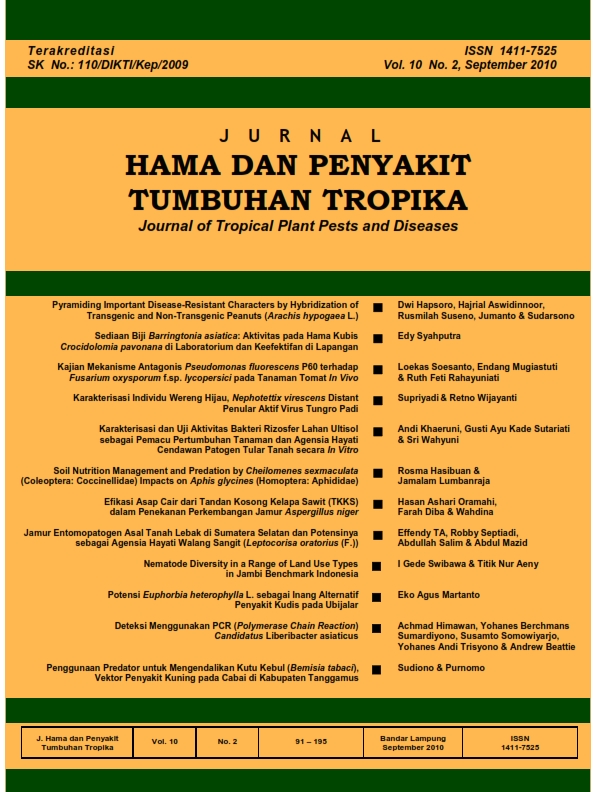 Downloads
License
Jurnal Hama dan Penyakit Tropika (JHPT Tropika) is licensed under a 
Creative Commons Attribution-NonCommercial 4.0 International License
.

Read Counter : 389 times

PDF Download : 213 times