SEDIAAN BIJI BARRINGTONIA ASIATICA: AKTIVITAS PADA HAMA KUBIS CROCIDOLOMIA PAVONANA DI LABORATORIUM DAN KEEFEKTIFAN DI LAPANGAN
Keywords:
Barringtonia asiatica, Crocidolomia pavonana, botanical insecticide
Abstract
Preparation of Barringtonia asiatica: insecticidal activity against Crocidolomia pavonana on laboratory and effectiveness on field.  The objectives of this study were to evaluate the insecticidal and anti-oviposition activity of ethanol seed extract of Barringtonia asiatica against Crocidolomia pavonana in the laboratory, and to determine the effectiveness of a simple preparation of B. asiatica seeds in supressing oviposition and population of C. pavonana in the field.  The mortality bioassays were conducted by a leaf-feeding method.  Anti-oviposition activity was assessed by a choice-test in the nursery.  The results showed that the ethanol seed extract of B. asiatica possessed strong insecticidal activity against C. pavonana larvae with LC50 of 0.14%.  The extract at concentrations of 0.14-1.00% reduced oviposition by C. pavonana female as much as 65.7-95.6%.  B. asiatica seeds ground in water for 5 seconds and then immersed for 1 hour at a concentration of 50 g l-1 yielded a simple preparation which was active against C. pavoana larvae. Such simple preparation at a concentration of 75 g l-1 sprayed on cabbage crop effectively suppressed population of C. pavonana larvae in the field.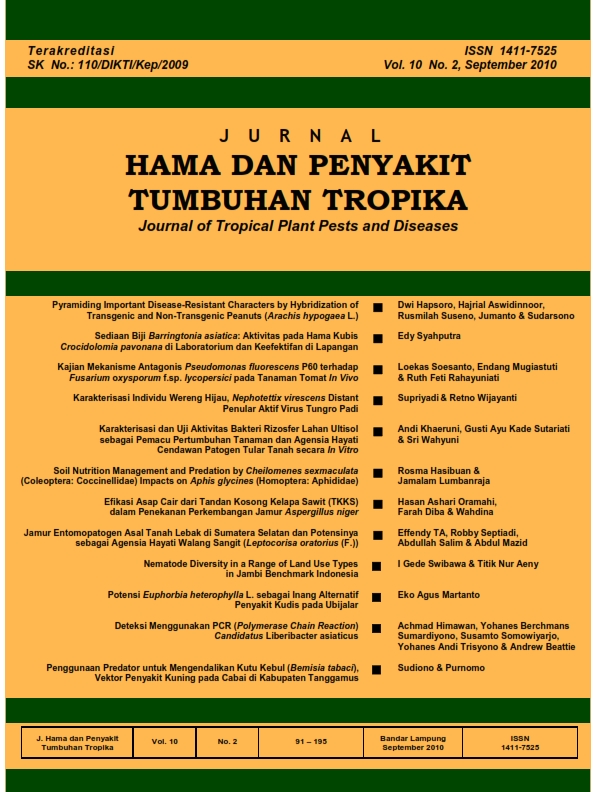 Downloads
License
Jurnal Hama dan Penyakit Tropika (JHPT Tropika) is licensed under a 
Creative Commons Attribution-NonCommercial 4.0 International License
.

Read Counter : 182 times

PDF Download : 179 times