KETAHANAN BEBERAPA KULTIVAR CABAI TERHADAP CUCUMBER MOSAIC VIRUS DAN CHILLI VEINAL MOTTLE VIRUS
Keywords:
Cucumber mosaic virus, chilli veinal mottle virus, Resistance
Abstract
Resistance Evaluation of Chillipepper Cultivars for Cucumber Mosaic Virus and Chilli Veinal Mottle Virus.  The use of resistance culivars is an important strategy for management of virus infection in chillipepper. A research was undergone to study the effect of single and mix infection of CMV and ChiVMV on the disease incidence and on the growth and yield of nine chillipepper cultivars, i.e. Cilibangi 4, Cilibangi 5, Cilibangi 6, Helem, Jatilaba, Tit Bulat, Tit Segitiga, Tit Super and Tampar. Mechanical inoculation was conducted to transmit the virus. Infection of the virus was then confirmed with DAS-ELISA.  In general, inoculated chillipepper cultivars developed similar symptoms, i.e. mosaic type for CMV and mottle type for ChiVMV.  More severe symptom was not always observed from mix infection of CMV and ChiVMV. Disease incidence occurred in the range of 16.67 – 86.0% and this caused 18.3 – 98.6% yield loss.  Based on symptom expression, ELISA result, and reduction on yield, it can be concluded that all chillipepper cultivars used in this study could not hold up the virus infection. However, several cultivars showed tolerance response :  Jatilaba, Tit Super, and Tampar for CMV; Cilibangi 4 for ChiVMV; Tit Super for mix infection; and Cilibangi 5 for CMV, ChiVMV, and mix infection.  Further evaluation and investigation involving different chillipepper cultivars should be conducted.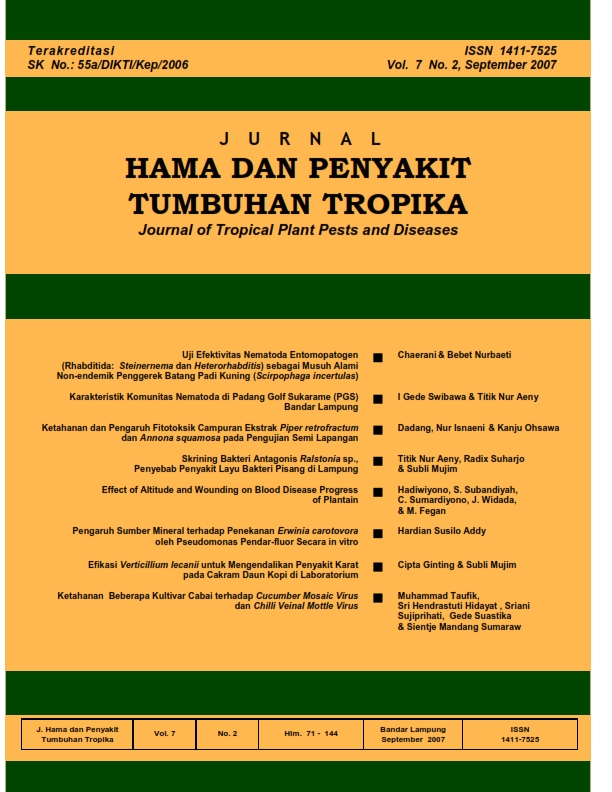 Downloads
License
Jurnal Hama dan Penyakit Tropika (JHPT Tropika) is licensed under a 
Creative Commons Attribution-NonCommercial 4.0 International License
.

Read Counter : 796 times

PDF Download : 530 times