EFIKASI VERTICILLIUM LECANII UNTUK MENGENDALIKAN PENYAKIT KARAT PADA CAKRAM DAUN KOPI DI LABORATORIUM
Keywords:
Verticillium lecanii, Hemileia vastatrix, coffee leaf rust, mycoparasitism
Abstract
Efficacy of Verticillium lecanii to prevent the incidence of rust on coffee leaf disks in the laboratory.  In the coffee plantations, Verticillium colonies often develop on the uredium and urediospores of H. vastatrix causing coffee leaf rust.  The objective of this study was to determine the efficacy of V. lecanii to prevent disease incidence on coffee leaf disks in the laboratory.  Leaf samples showing lesions with H. vastatrix uredospores and whitish mycelium expected to be Verticillium were taken from two coffee fields at Sumberjaya Subdistrict, West Lampung, and transported in ice chest to the laboratory.  Verticillium was isolated with a sterilized needle and grown on PDA-lactic acid media (PDA-L).  Verticillium was identified as V. lecanii as reported previously.  In the first test, each of two isolates of V. lecanii was grown on media containing yeast extract, malt, peptone-water, and dexytrose (YMPD) to produce conidia.  In the second and third tests, each of five antagonistic isolates was grown on PDA-L.   Suspension with 107 conidia ml-1 was sprayed into leaf disks and then the disks were inoculated with urediospores (104 ml-1).  In the first test, disease incidence was significantly reduced.  However, in the second and third tests, the disease was not significantly reduced.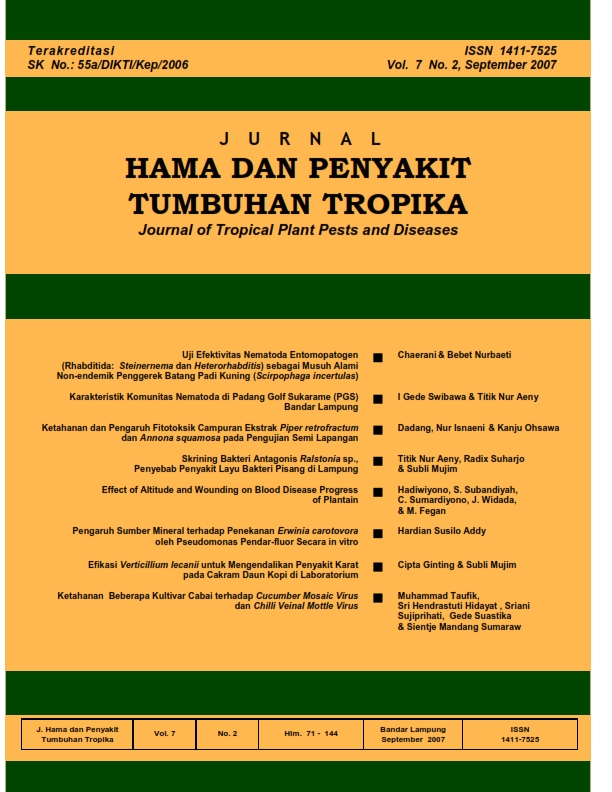 Downloads
License
Jurnal Hama dan Penyakit Tropika (JHPT Tropika) is licensed under a 
Creative Commons Attribution-NonCommercial 4.0 International License
.

Read Counter : 607 times

PDF Download : 275 times