EFFECT OF ALTITUDE AND WOUNDING ON BLOOD DISEASE PROGRESS OF PLANTAIN
Keywords:
blood disease bacterium (BDB), plantain, ecology
Abstract
Effect of Altitude and Wounding on Blood Disease Progress of Plantain. In the latest decade, the blood disease of banana has spread in almost all provinces in Indonesia and caused wilting of millions banana clusters in several provinces.  It is very difficult to control the disease due  to the base data about ecology and epidemiology of the pathogen are still poorly understood. This research aimed to evaluate the effect of  wounding of inoculation site on blood disease progress of plantain. The experiment was arranged using randomized completely block design It was conducted at three locations with altitude of 100, 1000, and 1600 m above sea levels as replication block. The treatments were wounding, unwounding inoculation site, inoculation, and uninoculation of plantain cv. Kepok Kuning Wounding was applied by stabbing with an injection pin around the corm of 15 stabs/seedling. The seedlings were planted singly in one liter of non sterile soil in plastic bag.  Each treatment consisted of 5 seedlings which was replicated 3 times. Inoculation was done  by soil drenching of 20 ml bacterial suspension at  concentration of 108 cfu/ml two week after planting.  The pathogen used for inoculation originated from low land area (about 100 m above sea level).  Observation was done weekly for 5 weeks. The variables observed were wilt intensity and area under disease progress (AUDPC). The results showed that blood disease was able to establish at altitude of 1600 m above sea level. The disease progress however was slower that those at 100 and 1000 m above sea level. On wounded seedling, the disease progress was more aggressive than those on unwounded one.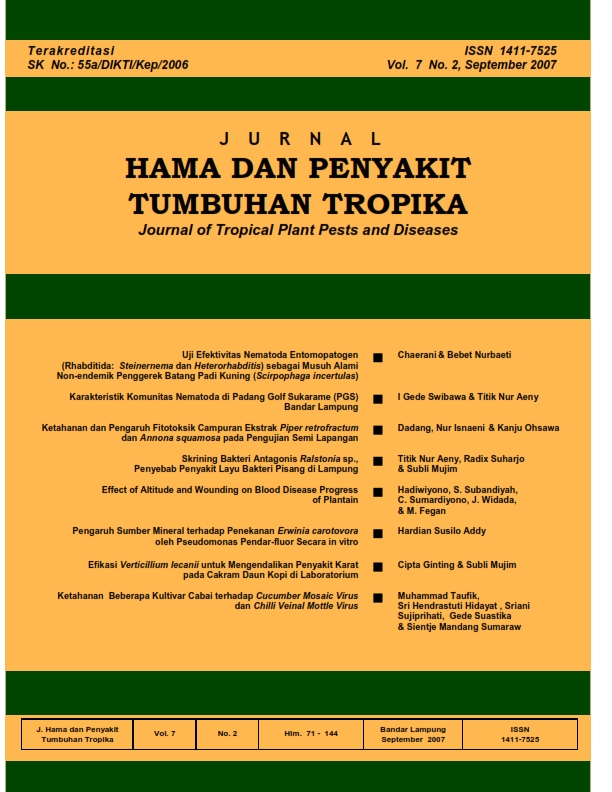 Downloads
License
Jurnal Hama dan Penyakit Tropika (JHPT Tropika) is licensed under a 
Creative Commons Attribution-NonCommercial 4.0 International License
.

Read Counter : 144 times

PDF Download : 81 times