PENGARUH FRAKSI AKTIF AGLAIA HARMSIANA PERKINS (MELIACEAE) TERHADAP FISIOLOGI LARVA SPODOPTERA LITURA (F.) (LEPIDOPTERA: NOCTUIDAE)
Keywords:
A. harmsiana, S. litura, botanical insecticide, metabolic enzymes
Abstract
The effect of active fraction Aglalia harmsiana Perkins (Meliaceae) to physiology of Spodoptera litura (F.) (Lepidoptera : Noctuidae) larvae. This study was conducted to evaluate the physiological interferences in the soybean armyworm Spodoptera litura caused by active fractions of Aglaia harmsiana seed extract.  The activity of the test materials was assessed by dietary preparation and topical application method. Repeated fractionations of A. harmsiana extract by chromatographic methods yielded two active fractions, designated as fraction 2-7 (0.0184%) and 2-8 (0.3773%). The results showed that fraction 2-8 had strong insecticidal activity against S. litura larvae, with LC50 by topical application and dietary preparation were 0.49% and 0.0044%, respectively.  A sublethal treatment with the active fraction (LC25) reduced the relative growth rate, efficiency of conversion of ingested food, and efficiency of conversion of digested food by 52.9%, 42.9%, 49.6% with topical application and 66.7%, 50%, 63.8% with dietary preparation method.  The treatments with that fraction at LC10 and LC25 to the fourth instars reduced the activity of invertase enzyme by 34% and 47%, but increased the activity of trehalase by 6.2% and 12.5% as compared with controls.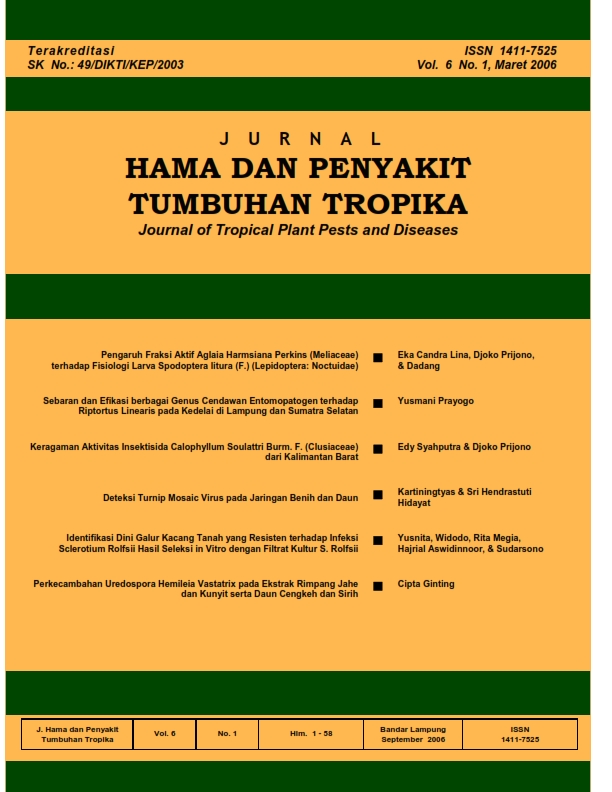 Downloads
License
Jurnal Hama dan Penyakit Tropika (JHPT Tropika) is licensed under a 
Creative Commons Attribution-NonCommercial 4.0 International License
.

Read Counter : 169 times

PDF Download : 74 times