EFEKTIVITAS SATELIT RNA YANG BERASOSIASI DENGAN CUCUMBER MOSAIC VIRUS (CARNA-5) UNTUK MENGENDALIKAN PENYAKIT VIRUS PADA TANAMAN TOMAT
Keywords:
cucumber mosaic virus, satelit RNA, CARNA 5, tomato
Abstract
Two strains of CMV associated satellite RNA (CARNA 5.1 and CARNA 5.2) were evaluated to control severe strain of Cucumber mosaic virus (CMV-G), Tobacco mosaic virus (TMV), and Potato virus Y (PVY) on tomato plants.  Tomato plants were mechanically inoculated with CARNA 5.1 and CARNA 5.2 to protect the plants from super infection of CMV-G, TMV, and PVY.  The result revealed that inoculation of CARNA 5.1 and CARNA 5.2 to tomato plants effectively controlled the plants from CMV-G super infection. The effectiveness of  CARNA 5.1 and CARNA 5.2 to unrelated virus, TMV and PVY, was evaluated in this experiment.  The result showed that CARNA 5.1 and CARNA 5.2 inhibited TMV and PVY infection.  CMV-G super infection on protected tomato plants showed mild disease symptoms, significant redution of  plant growth, height, and yield; however, nonprotected plants showed severe disease  symptoms and significant inhibition of plant growth and tomato yield.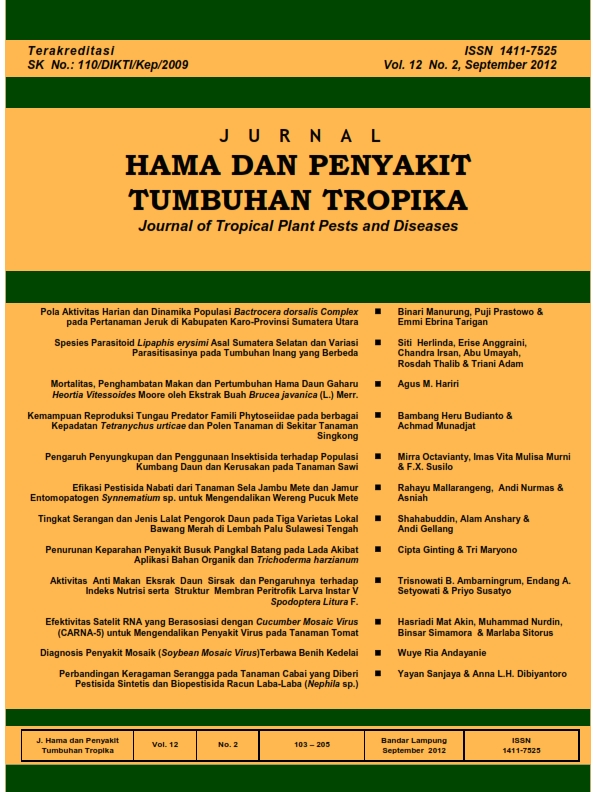 Downloads
License
Jurnal Hama dan Penyakit Tropika (JHPT Tropika) is licensed under a 
Creative Commons Attribution-NonCommercial 4.0 International License
.

Read Counter : 379 times

PDF Download : 180 times