PENGARUH PENYUNGKUPAN DAN PENGGUNAAN INSEKTISIDA TERHADAP POPULASI KUMBANG DAUN DAN KERUSAKAN PADA TANAMAN SAWI
Keywords:
caging, alfametrin insecticide, Phyllotreta sp., mustard
Abstract
This study was aimed to test the efficacy of plant caging and insecticide treatment on the leaf beetle abundance and leaf beetle-induced damage on mustard plants. The field experiment consisted of three treatments (caging, insecticide and control) that were set in a completely randomized design with six replicates. Bamboo-framed screen cloth was used as cage while alfametrin was applied at recommended rate. The response variables were leaf beetle abundance (observed using a direct count method) and damage on mustard plants (percentage of severity and incidence). Result showed that plant caging effectively reduced pest abundance, damage severity (43%) and damage incidence (83%). Alfametrin spray slightly reduced leaf beetle abundance, damage severity (12%) and damage incidence (5%). Leaf beetle abundance positively correlated with damage severity (R2 = 0.714). Addition of one leaf beetle individual increased damage severity of 5%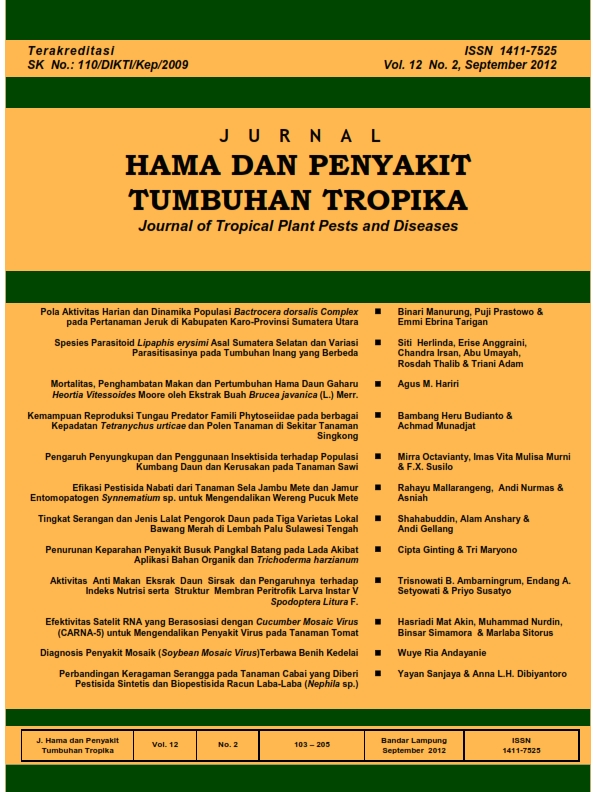 Downloads
License
Jurnal Hama dan Penyakit Tropika (JHPT Tropika) is licensed under a 
Creative Commons Attribution-NonCommercial 4.0 International License
.

Read Counter : 408 times

PDF Download : 358 times